REELAB
With focus on Your product and production.
We serve the polymer industry with high quality compounds made out of 100% recycled plastic.
SOURCING WASTE
When sourcing the material we careful consider every aspect of the customers situation, to find the best quality in the requested field of waste with a reliable source.
COMPOUNDING
Reviewing the availability of plastic waste and consumer trends across Europe gives us the opportunity to create a specific recipe, and together with a network of partners in the industry we produce the quality made for you.
SCANDINAVIAN HOUSE OF REFILL
Our brand contains carefully selected products from the waste stream converted into high quality raw material, for direct use in the production.
Our Focus
Through a well-developed process we supply customized high quality compounds for your specific products, made out of 100% recycled plastic.
We offer the market a wide range of material like PP, PE, ABS, PS, PVC, PA, Elastomer etc. for all industries. We are able to provide material from different sources as Post Consumer Recycled (PCR), Post Industrial Recycled (PIR), Waste Electrical & Electronic Equipment (WEEE) and others.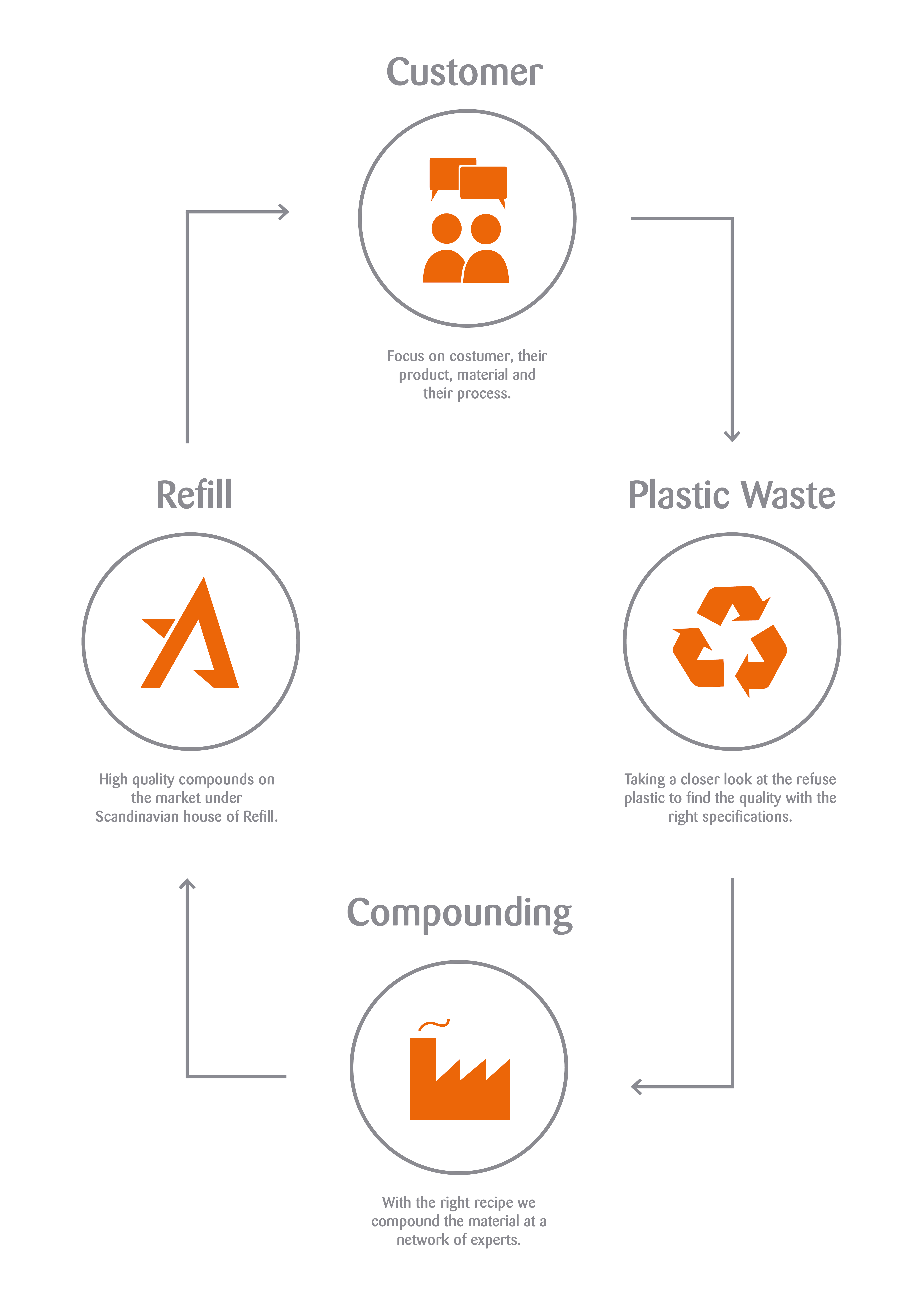 Welcome to
Scandinavian House of Refill
We are proud to introduce you to our Refill brand.
Our Refill is subject to continuously tests to ensure you a consistently high quality raw materials.
Reelab has built a base of different group of product containing several qualities. They are well tested on the market. If any of these does not fit Your product, it may be time for us to get what you want.
Request free quote
About Us
Reelab AB has been active since 2011 and was set up as a cornerstone to Axjo Group in Sweden.
Together with internal, external partners, we match users of recycled thermoplastics with a focus on high-quality products, flexibility, a wide range of polymer solutions and a good logistic network. This is making Reelab one of the markets best choice in- and outside of Scandinavia.
Today we provide the polymer industry with recycled raw material in America, Europe and Asia. We find solutions for your waste and have grown to customize circular economy models for your specific need and to have the fortune to develop and produce our own recipes for our brand Refill. Our mission is to be a key player in expanding the usage of recycled plastic in the polymer industry.
With focus on your product and production. We serve the polymer industry with high quality compounds made out of 100% recycled plastic.